You are here:  The Adoption Profile
The Adoption Profile: Connecting with Birthparents
Your Adoption Profile is the primary way you connect with birthparents. It is how birthparents get to know you. Adoption Link shares your profile with birthparents when they are trying to select the adoptive family they think is best for their child. A profile that accurately represents you helps birthparents determine if you are the right fit. In other words, your profile is important.
At the most fundamental level, you want the birthparent who is reading your profile to get a solid idea of what life might be like for their child should they choose you as the adoptive parent(s). One thing we can safely say is true for all birthparents is that they are seeking a safe and stable life for their child, one that will give the child better opportunities than they themselves would be able to provide. After that, however, it's hard to say what might click with a birthparent. That's why you want to simply tell the truth about yourself: your lifestyle, your interests and hobbies, your family, and your work lives, as well as your values and your thoughts about parenting and adoption.
The Adoption Profile: An Overview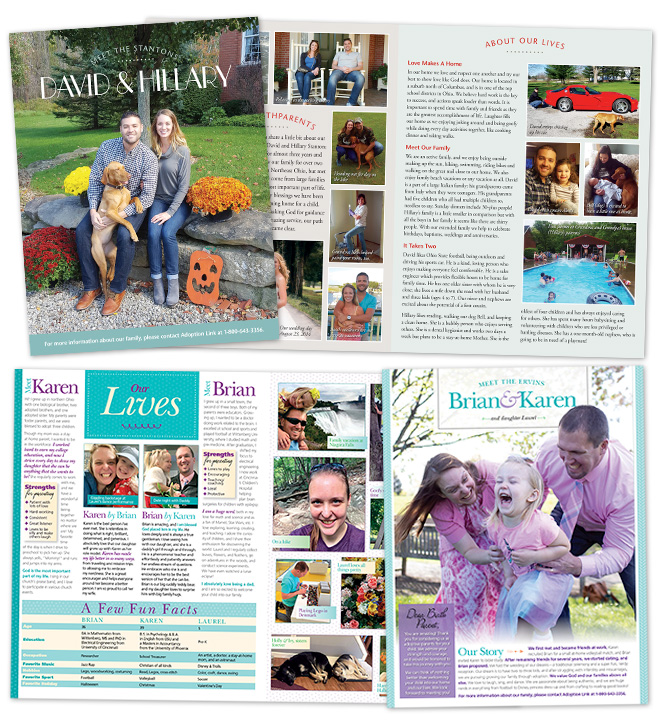 Adoption Link's Recommended Profile Package
At Adoption Link, we recommend a three-pronged approach to making your profile as accessible as possible to birthparents. This consists of the following three profiles:
A one-page printed profile. The one-page profile is a single-sided 8.5 x 11 sheet. It usually contains two to four photos and about 500 words, and is printed on a high-quality color laser printer. When a birthparent contacts us for information about potential adoptive parents, this is the first information that we share with them. The one-page adoption profile is required.
A four-page printed profile. The four-page printed profile is your primary profile. Professionally printed on a heavier, good quality paper stock, it usually contains between 15 and 25 photos, along with 900 to 1200 words. Your Adoption Link social worker keeps your four-page profile on hand at all times so that it is ready to share with birthparents at a moment's notice. The four-page adoption profile is required.
An online profile. Having your profile online at the Adoption Link website means that your information is available to birthparents who may be searching the Internet. The website profile is basically an online version of your one-page profile. It usually runs about 500 words and contains two to four photos. See samples at Our Waiting Adoptive Families page. (Please note that online profiles remain active until placement has occurred.) The online profile is not required, but strongly recommended.
Each of these three must include a section called "Our Family at a Glance." This consists of you completing the following sentences:
We live
We work
Our hobbies include
We believe (this could speak to religion or open adoption)
We've been married since
An example of how that might be filled out:
We live in the Dayton, Ohio area.
We work as an educator and a musician.
Our hobbies include reading, hiking, and biking.
We believe open adoption is in the best interest of everyone involved, particularly the child.
We've been married since November 2014.
See "How to Complete Your Profile" here.
We ask that you include the following in your profile's content:
• Why you want to adopt — how long you have been thinking about adoption?
• Your interests and personality: How long have been married? What you do for work? Do you attend church? Is religion a large part of your life?
• What makes your family unique? Do you travel? Have pets? Have hobbies?
• How do you feel about openness in adoption?
• What are your hopes and dreams for your family, including this child?
• Your childcare plans — will you work full-time, part-time or stay at home?
• Any personal experiences with adoption, and how those experiences may have impacted your decision to become a parent through adoption.
• What do you want the birthparents to know/understand about you?
• A smile in every photo! (extremely important)
• Always use positive adoption language such as "making an adoption plan for your child" and never "giving up your baby" or "put up your baby."
• Your first and last name — put it on everything.
• Lastly, remember to include, "For more information about our family, please contact Adoption Link at 1-800-643-3356."
Adoption Link Suggests Working with a Professional
Adoption Link has partnered with a local design firm, Adoption Profiles By Design, to help you produce the best profiles possible — profiles that make it easy for birthparents to learn about your family. Working with a specialist frees you from much of the work involved in preparing your profile, since a professional graphic designer takes your photos and text and prepares the layout for you.
Adoption Profiles By Design provides fast turnaround and affordable pricing, and since launching in 2013, every prospective family who has used the service has been very pleased with the results. See a few samples of their work below and even more at the Adoption Profiles By Design (link opens in a new window). You will find sample layouts, instructions for preparing your photos for the best results, and you may place an order there, too. (Other options, such as postcards, are available according to your preferences, as well as editing services.) Feel free to call as well, at 937-312-4250. Additionally, you will find an overview of the entire process here.
An excellent profile is an indispensable tool for connecting with birthparents.
Adoption Profiles By Design | 937-312-4250 | www.adoptionprofilesbydesign.com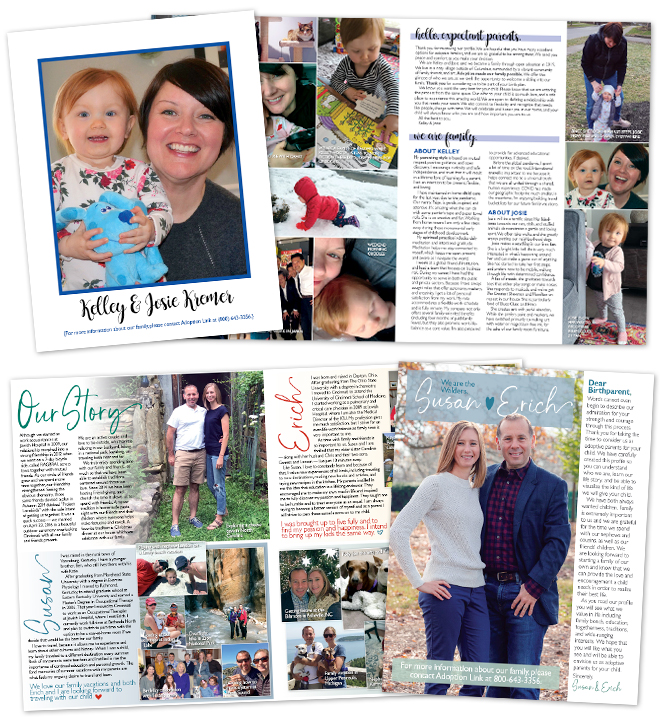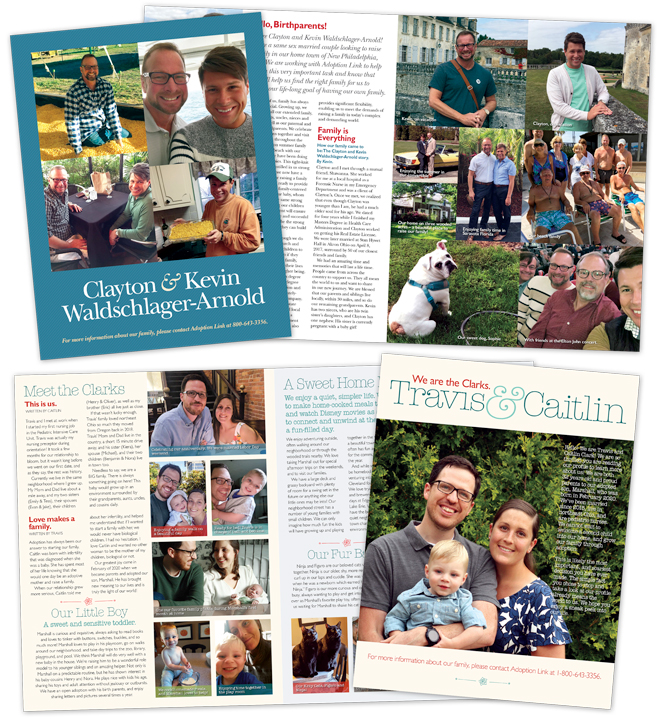 See "How to Complete Your Profile" here.