You are here:  Adoption Stories
Adoption Stories
Reflections on Openness
By Amy H.
When my husband and I decided to expand our family through open adoption, we knew openness would both rewarding and challenging. We thoroughly did the research regarding open adoption and understood why this choice would be best for each person involved. You see, we spent hours upon hours reading anything we could get our hands on concerning the subject, talking to anyone who would share their personal experience, both positive or negative, and we searched the internet with a fine tooth comb, reading blog after blog authored by both adoptive parents, birth parents, and adoptees, offering strong opinions concerning their personal experience with adoption–open and closed. We viewed open adoption as not only extending our unconditional love to our future child, but also to a birth mom as well–or whoever would be included in the relationship in which we chose to enter. We weren't naive of the possible challenges ahead, but we believed in the long-term rewards of being committed to and maintaining this relationship. We felt well prepared! What we weren't prepared for was the lack of education others had regarding openness.
When we brought our daughter home from the hospital, she was accepted by our family and friends, and even strangers, as though I had delivered her myself. But what we noticed was more difficult for them to accept, was the unconditional love we extended to our daughter's birth mom too. People held on to the stereotype of a birth mom having an opposing lifestyle, thinking it would only be a matter of time before we would be able to sever the relationship and cut all ties with her. What these people–some family, friends, and strangers didn't realize was, regardless of our birth mom's lifestyle, which was none of their business (nor ours, really), our unconditional love for our birth mom will always remain unconditional.
Challenges may present themselves in the relationship we have created through openness, and there may be times we may need to request to cancel a planned visit, due to these challenges, and try again another day; but openness is the the foundation in which we never stop believing in the possibilities of another day–being open to trying again.
Yes, open adoption is about providing all the pieces upfront, for our child to understand her presence in this world; and guiding her as she attempts to put each piece in place to complete a puzzle, that when fully finished, exclaims "I am loved!" But open adoption is also about opening your heart (extending love and compassion to birth parents) and faithfully being committed to work through the challenges that come in any given relationship. If the relationship between your child and birth parent isn't healthy for today, be open to the possibility of a healthier relationship in the future.
So to those few family members, friends, and strangers, please know there is no need to continue inquiring about birth mom. The answer will always remain the same: Our hearts are open to her, therefore she will always be a part of our lives. (Even if we are trusting in the Lord for a healthier tomorrow.)
A Heartwarming Adoption Story
By Angel and Samo
In 1995 I (Angel) was diagnosed with Stage 4 endometriosis and was told that we'd have a difficult time conceiving a child, never foreseeing what lay ahead. After six surgeries, three artificial inseminations, three conventional IVFs and a fourth IVF with an egg donor over a span of 14 years with no success and an immense sense of heartbreak and hopelessness, we felt defeated. All we wanted was to be parents and become a family.
With each procedure and surgery we were given high hopes. But after each failed procedure we felt mentally and emotionally shattered. In 2009 we had our fourth IVF with an egg donor. We transferred two healthy embryos and received a positive pregnancy test from our doctor. Three weeks later I miscarried. We were absolutely devastated. This was a turning point for us. We both decided that we just couldn't take anymore. After both agreeing that it wasn't about being pregnant, it was all about becoming parents and having a family, we made a few phone calls and Adoption Link was highly recommended. So … we made a call in October of 2009. Within a week we made the trip to meet Naomi and learn all about adoption. Obviously this was unchartered waters for both of us, and we needed to be sure that this is what we wanted to do and to know fully what lay ahead. After our meeting with Naomi we knew that this is the path we were meant to go down. And we are so happy we did.
Adoption Link was the agency for us. We loved Naomi's passion and tenacity. We respected her advocacy, commitment and passion for the birthparents, and also her encouragement of openness in adoption. We took home the pile of paperwork and got to work. We were beyond excited,but terrified at the same time. We are spiritual people and knew that God has led us here, and we needed to follow this path.
In February of 2011 we received a long-awaited call from Naomi telling us a young couple had chosen us and would like to meet us. So of course we said, "Yes." We met the birthparents and we all felt so comfortable, as if we knew each other already. We developed a beautiful relationship with the birthparents, talking almost every Sunday, being invited to the gender ultrasound, being in the labor/delivery room, my husband cutting the cord, and I being the first to hold our son in August of 2011. It was a perfect experience. We brought our son home three days later and couldn't believe this was real. We felt as though it was a dream and we were going to wake up and none of it was real. But … it was very real.
We are now parents and have the family we always dreamed of. Our son was a long-awaited dream come true. We knew from the beginning we wanted our son to have a sibling. So, in March of 2012, we renewed our home study for two more years in hopes of being chosen again to adopt. Our home study was due to expire in March of 2014, and we both decided that if we weren't chosen by then we weren't going to pursue another renewal or adoption; we were already abundantly blessed with our son. Over the summer of 2013, we were losing hope that making our son a big brother would never happen, so we prepared ourselves for March of 2014 to come and go and decided we'd be happy with our perfect little family. Well, our phone rang on September 30, 2013, with Naomi's voice on my phone saying: Angel, I need you to listen. She began to tell me that a caucasion baby girl was born at 1:00 this afternoon, is in perfect health, was born in an ambulance, the birthmother didn't know she was pregnant and would like to make an adoption plan for her baby girl and that we were "chosen." This call from Naomi was at 5:00 pm, we were holding our baby girl at 7:00 pm. We were in a state of shock, but a most wonderful shock, yet again knowing God had brought us here. We knew that now, for sure, all of our dreams had come true. Three days later we brought our beautiful daughter home.
Needless to say, our fairytale adoption story is just that. Now don't get me wrong, there were times of feeling hopeless when time ticked by and we wouldn't hear anything from Adoption Link for a month or two. But we simply kept the faith in Naomi and Adoption Link that all would work out perfectly — and it did.
Our son and daughter are the light of our lives and we are overjoyed, cherishing every single minute of every single day with our perfect children and our perfect family. We have to say, now that we are through that very long and dark storm of infertility — all of the heartache, pain and sorrow now a distant memory — that our journey through adoption is like a storybook with a fairytale ending. Adoption Link has made all of our dreams come true. Thank you, Naomi, there will never be words to express our gratitude to you, our respect for knowing how much passion and heart you have for us, as adoptive parents, but most importantly for the selfless sacrifice of each and every birthparent.
Discovering the Joys of Open Adoption
By Katherine and Mike
Our social worker was amazing, supportive and a joy to meet with. The paperwork was easier than we had imagined and was actually a great family "project", forcing us to sit down and document aspects of our life that we look forward to reading through years down the road. We were matched with a pregnant birthmother two months after submitting our paperwork, the day prior to her ultrasound to determine the sex. The next day we hung up an ultrasound picture of our baby boy sucking his thumb on our refrigerator! I was hesitant about an open adoption, embarrassed when I'd find myself hoping the mother would choose a closed adoption option. There was fear I didn't want to acknowledge tied in with potential jealousy.
Over the following couple of months and OB appointments our birth family became part of our own in some regards. They already had two children, one year old and two years old and were simply not ready for a third child. Our son was born two months early, requiring two weeks in the NICU to learn how to eat on his own. Our time in the NICU became a foundation forming time for our family with our birthparents bringing us lunch every other day and our birthmother actually bringing frozen breast milk to the NICU. Our birthmother loves our son and it couldn't make me feel more proud to be his Mom in his journey through life.
We all come to adoption as an accepting family or as a birthfamily for different reasons but for us, this has been more than we could have ever imagined. All of the fears I had going in to the process have completely dissolved and our open adoption has allowed us an extended family that simply provides more love for our son. He is now one-and-a-half years old and we are so proud to share his accomplishments with his birthparents and enjoyed the birthday cake his birthmom made for his first birthday! We are now submitting for our second adoption and know the next experience will be different but are thrilled to be working with Adoption Link yet again."
Happy Families
Adoption Link often hears from its adoptive parents, sharing the joys of parenting their new child. From time to time, we'd like to share that joy with you.
There Could Not Have Been a Better Match for Our Family
We never expected to be matched with preemie twins when we started the adoption process, but now we know that there could not have been a better match for our family. Their time in the NICU went by quickly and we have cherished every moment of having them home!! Our older boys are completely in love with the babies and so are we. Thank you Adoption Link!
– Jason and Judy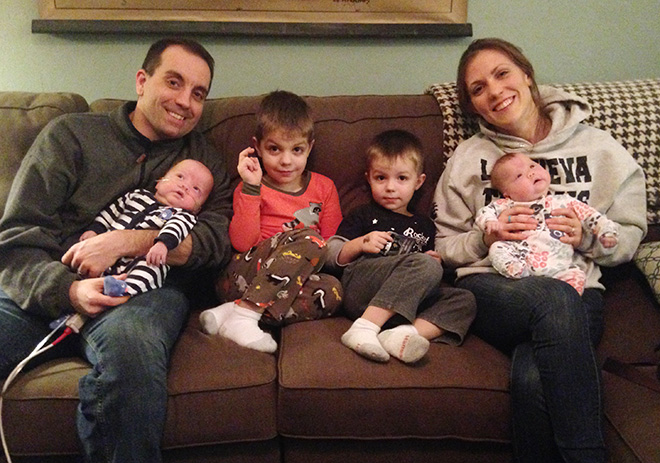 Out for Ice Cream
The smiles tell it all, as this happy family stopped by the Adoption Link offices for a photo after enjoying a summer ice cream treat at Youngs Dairy.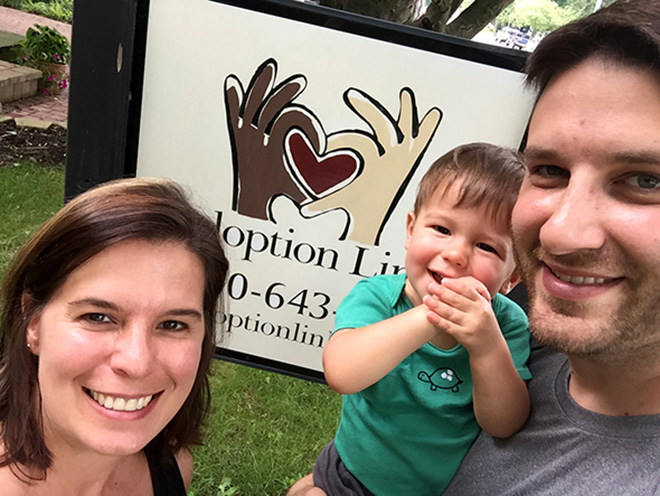 A Joy Every Day
Our hearts are filled with joy to hold our son each day! God bless you!"
– Julie and Robert
Even Happier Than We Expected
"We are truly happier than we ever thought possible."
– Brian, Kiley and Faith
Open Adoption Has Given Us a Great Extended Family
"All of the fears I had going in to the process have completely dissolved and our open adoption has allowed us an extended family that simply provides more love for our son. He is now one-and-a-half years old and we are so proud to share his accomplishments with his birthparents and enjoyed the birthday cake his birthmom made for his first birthday!"
– Katherine and Mike
A Perfect Family
"Our son and daughter are the light of our lives and we are overjoyed, cherishing every single minute of every single day with our perfect children and our perfect family."
– Angel and Samo
Can't Imagine Life without Her
"We are so thankful to have our precious girl and can't imagine life without her."
– Chris, Lindsay and Ellie