You are here:  Our Waiting Adoptive Families > Meet Joe & Jessica C.
Meet Joe & Jessica C.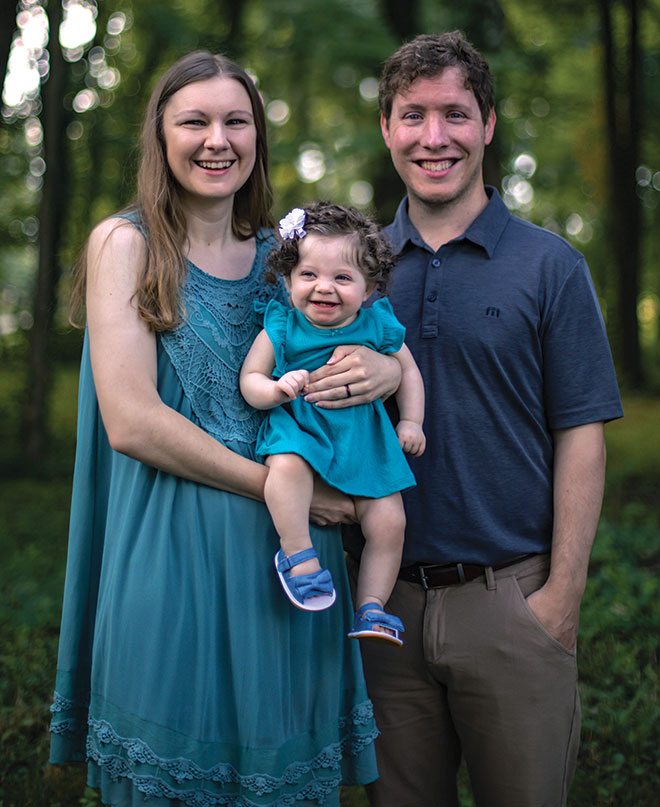 Dear birth parent,
Thank you for letting us share a bit of our lives with you. We can't imagine how difficult a decision you are faced with, but we are so glad you chose life and are considering adoption for your child. Adoption has always been on our hearts, and in 2021 God blessed us with our daughter April Kaitlyn. We are grateful for the opportunity to expand our family through adoption again.
We are Joe and Jessica. Since first meeting in 2013, we've grown closer every day, playing games, being with family and friends, and experiencing life together. We bring out the best in each other. We married in October of 2016, and it was the best day of our lives.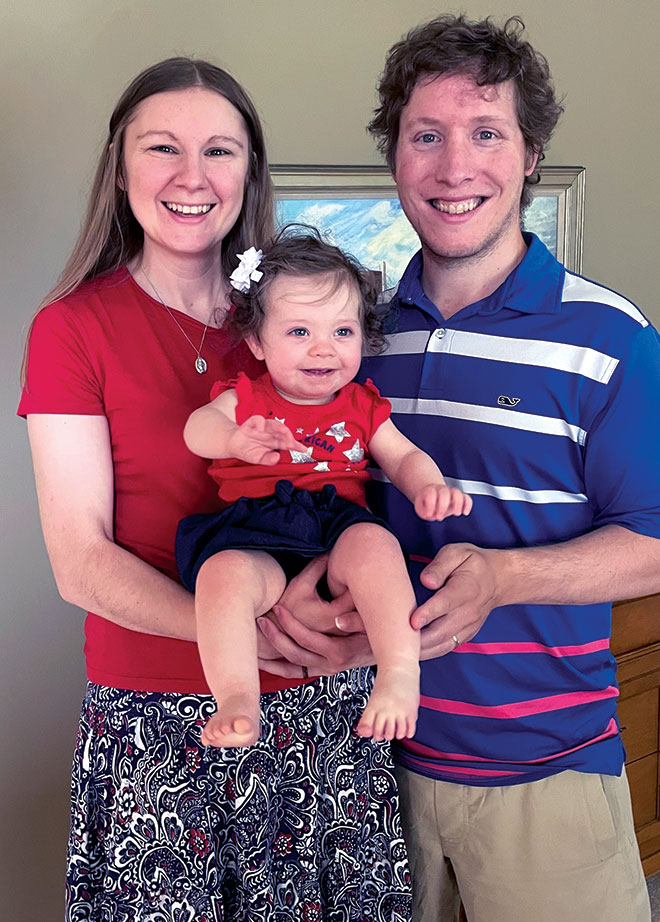 Ready for the Fourth of July
About Joe Joe grew up in Cincinnati and has spent his whole life there. For two years, Joe worked as a site manager in charge of contracted services for a large company. When April was born Joe took on the role of stay-at-home dad! Getting to experience life with April has been one of the greatest joys of his life. Joe is a big sports guy, both watching and playing sports. He especially enjoys playing golf and watching Xavier basketball and NFL Sundays. Jessica on Joe: Joe is one of the friendliest, most genuinely nice people you'll ever meet. He is so thoughtful, and also has a great sense of humor. He is the most incredible dad to April, and I am proud to call him my husband.
About Jessica Jessica also grew up in Cincinnati and has spent most of her life there. She works as a government accountant and thoroughly enjoys it. After placement, she will take three months off before returning to work. She loves the flexibility of her job, which allows her to be home most weekdays. Jessica enjoys all board games and is always ready to play. She's an avid reader, a passion she can't wait to share with her child. Being a mother to April is her favorite thing in the whole world! Joe on Jessica: Jessica has an incredibly kind heart. She's easy to talk to, very trustworthy, and doesn't judge. She is always there for family and friends. She has a beautiful relationship with April, who always gives her the biggest smiles. Jessica has been an amazing, loving, and caring mother.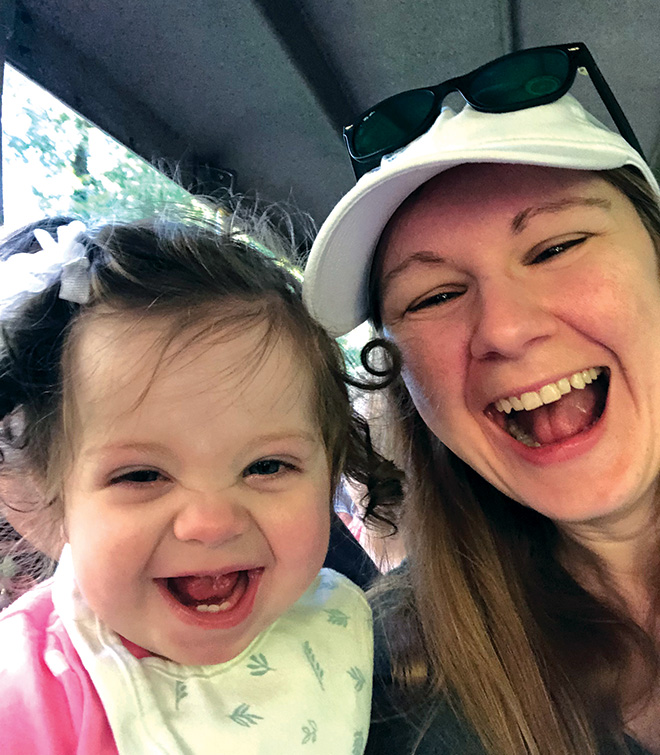 Having a blast on the train at the zoo
About April April, who joined our family in July 2021, is the light of our lives. She is a little ball of energy and a very happy girl, always smiling and laughing. She is social and loves waving to everyone we meet. She adores being cuddled and playing with mom and dad. Her favorite things are the zoo and swinging at the park. April will be a great big sister!
Home Sweet Home We live in a suburb east of Cincinnati in a safe and quiet neighborhood perfect for bike rides and long walks. The neighborhood playground and basketball court are always filled with kids. Nearby is the Cincinnati Nature Center, where we like to go on hikes. It has a great interactive learning center, which we intend to visit with our kids.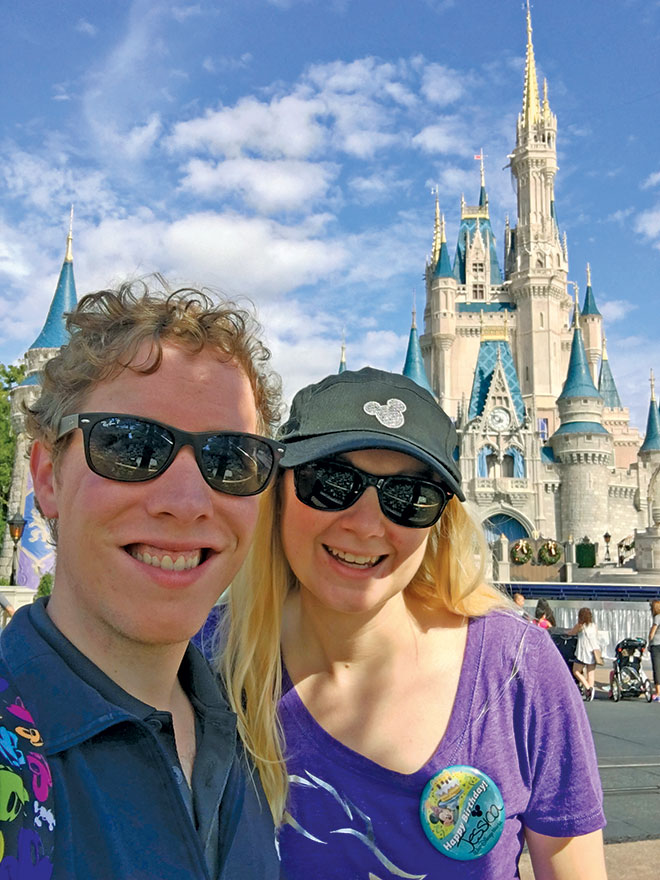 We can't wait to take our kids to Disney.
We cannot thank you enough for taking the time to look at our profile. We admire your love and courage in considering adoption. We look forward to meeting you and will continue to pray for you as decide what is best for you.
Joe & Jessica
Our Family At a Glance
We live in a suburb of Cincinnati, Ohio. We've been married since October 2016. Jessica works as an accountant and Joe is a stay-at-home dad. Our hobbies include playing board games, enjoying walks, recreational sports, and spending time with friends and family. We believe in trusting in God's plan for all of us and that open adoption is in the best interest of everyone involved.
For more information about our family, please contact Adoption Link at 1-800-643-3356.