You are here:  Our Waiting Adoptive Families > Meet Billy & Maura G.
Meet Billy & Maura G.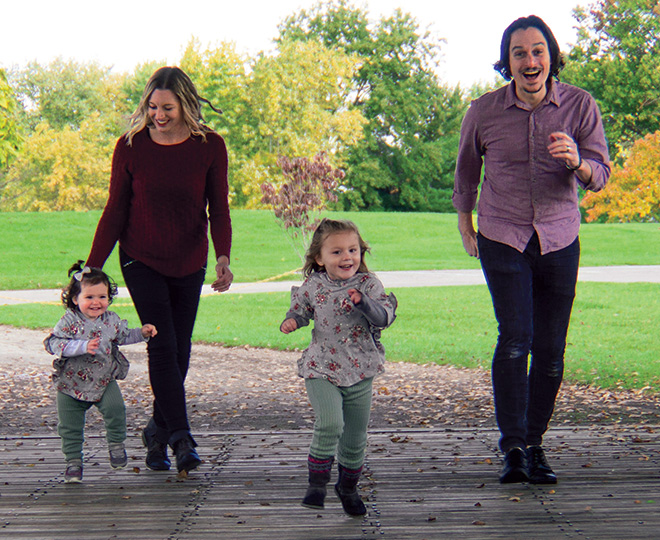 Dear Birth Parent(s),
We cannot easily express everything we want to say to you. We know this must be an emotional time for you, and we cannot say thank you enough! Thank you for the strength, courage, compassion, and love you have shown by considering placing your child for adoption. Thank you for loving your child in this special, courageous way.
Maura grew up in Columbus, Ohio, with a twin sister and a younger brother. She has a large extended family we enjoy spending time with. Her parents taught her to not take things for granted and to never lose faith. Maura has a doctorate in Physical Therapy and works at a nursing facility helping people recover after a hospitalization. Maura believes laughter is a great medicine for the soul and says it's a great ab workout, too. She's looking forward to having more children with whom to share her love and joy.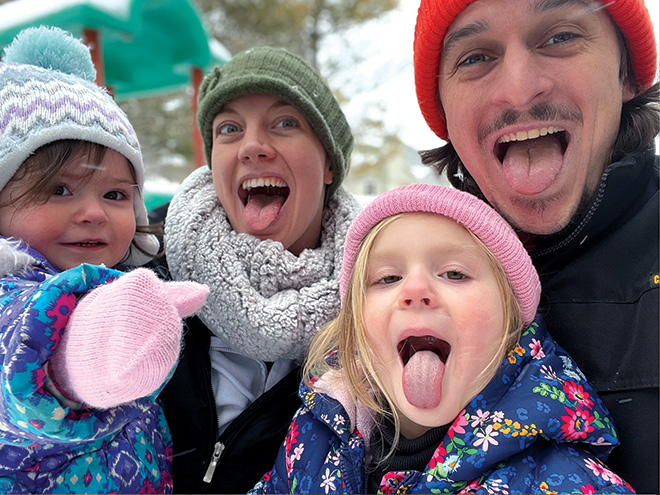 Trying to catch snowflakes
Billy was raised in Bexley, Ohio, the middle child of five siblings. He absolutely loved being a part of a big family and there was never a dull moment in their house. Always passionate about working with young people, in 2016 Billy earned his teaching license and today feels blessed to work as a 6th grade math teacher. When he's not in the classroom, he loves getting outside, whether to work in the yard, run, or hike. He has loved the adventure of parenthood thus far and can't wait to grow his family again through adoption!
Our Precious Daughters Chiara is our 1st amazing daughter who joined our family through an open adoption when she was 2 days old. Now 5 years old, she is a chatterbox and very outgoing; she enjoys making new friends wherever we go. She likes coloring, doing crafts, playing outside, reading books, singing along to almost any song, playing with our dog Sadie, and hanging out with family and friends. We are still in touch with her birthmother, who is a special part of our family. Colette ("Letty") is our younger daughter who also joined our family through open adoption. She is 2 years old, and we were honored to be able to be with her when she was born. We still have contact with her birthfamily, who have also loved to see her grow into a spunky, adorable toddler. Colette loves "tea parties," helping take care of babies (both real and pretend), chasing after her big sister, reading books, running around outside, dancing to almost any song, and hanging out with family and friends.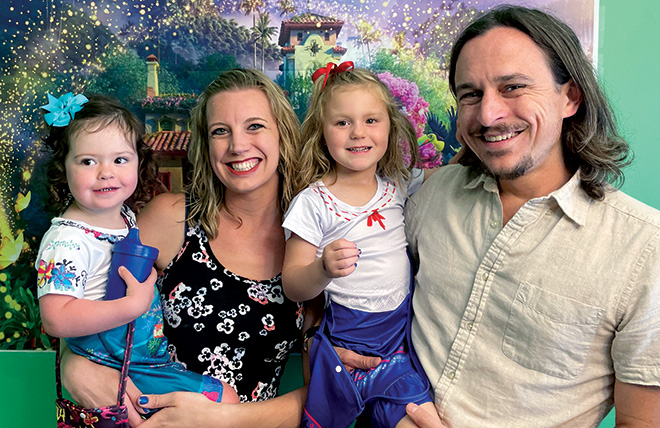 Encanto theme for Chiara's 5th birthday party
We love spending time together as a family — getting together with our extended family and friends, going to parks, taking walks around our neighborhood, and going the zoo often. We have fun playing together both indoors and out. Our families have many traditions, especially for seasons and holidays, and we look forward to creating new traditions with our growing family. We enjoy going on adventures to explore places near and far, trying new foods, cooking together (especially making pizzas!), having dance parties in our family room, going to concerts, reading books, play dates with friends, and going to local sporting events.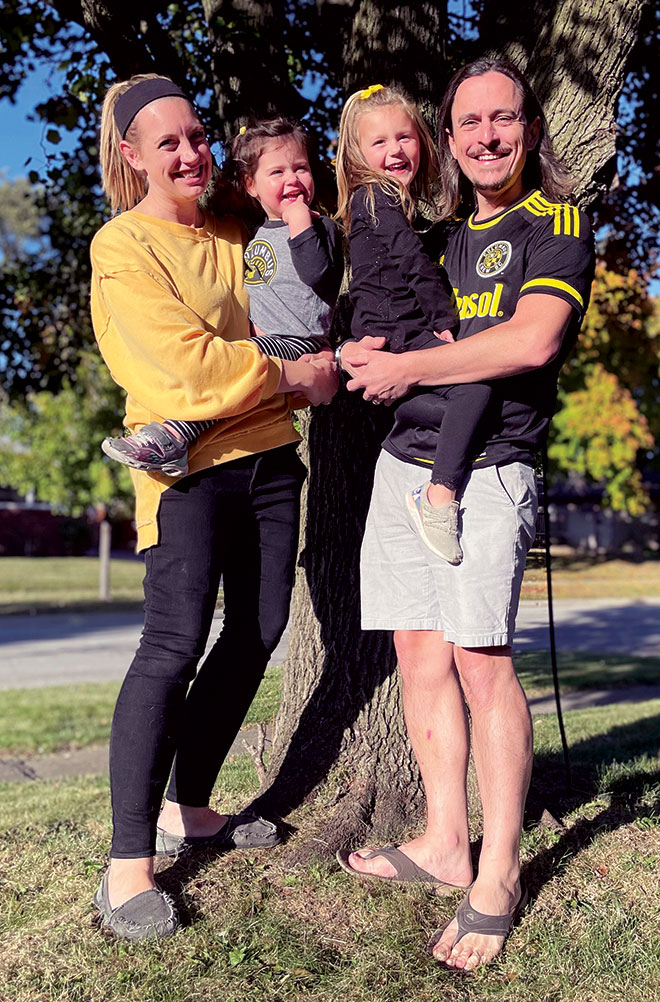 After watching a Columbus Crew soccer game
We live in Hilliard, a suburb of Columbus, in a 4-bedroom home with plenty of living space, a fully-fenced backyard, a covered front porch with a porch swing, and a finished basement. Our neighborhood is full of families, and your child can count on lots of hours of outdoor fun in a safe, friendly environment. We live just minutes away from parks, trails, playgrounds, and a historic downtown shopping and dining district. We are a short drive from downtown Columbus, the Columbus Zoo, multiple museums, movie theaters, shopping centers, and leading medical centers.
Thank you for considering us as adoptive parents.
With great love and admiration,
Billy and Maura
Our Family at a Glance
We live in the Columbus, Ohio area. We've been married since 2013. We work as a physical therapist and a teacher. Our hobbies include music, cooking, and playing outside. We believe God has called us to grow our family through open adoptions.
For more information about our family, please contact Adoption Link at 1-800-643-3356.