You are here:  Our Waiting Adoptive Families > Meet Travis & Caitlin C.
Meet Travis & Caitlin C.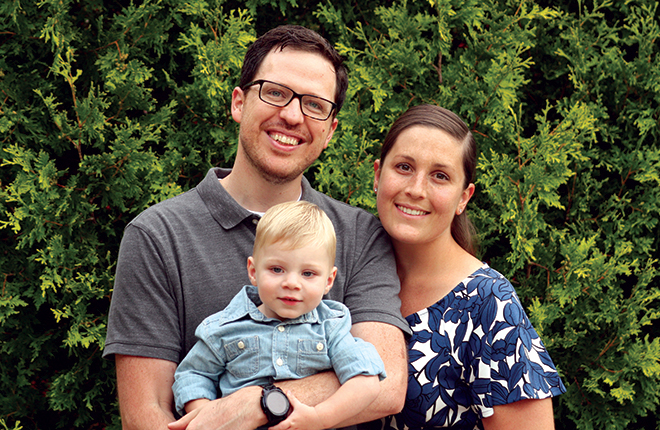 Hello!
We are Travis and Caitlin, and we are thrilled you are reading our profile! We are both 32 years old and proud parents to our adopted son, Marshall, born in February 2020. We cannot wait to welcome a second child into our home, and grow our family through adoption.
Currently we live in the same neighborhood where Caitlin grew up. Both of our families are nearby, and we are a BIG family. There is always something going on here! This baby will grow up in an environment surrounded by grandparents, aunts, uncles, and cousins daily.
About Travis, by Caitlin Travis is an amazing, loving, and involved father and husband. He is the sweetest and most patient man, compassionate and kind to everyone. He works hard Monday-Friday, commuting two hours each day to provide for our family. Despite a busy day, Travis is very involved in our home life, and happily takes care of chores around the house, including being in charge of our son Marshall's bath and bedtime routine at night. It is a joy to listen to the sounds of Marshall and him laughing and playing together as the day winds down. I am so happy to have him as a partner in raising Marshall and our future children.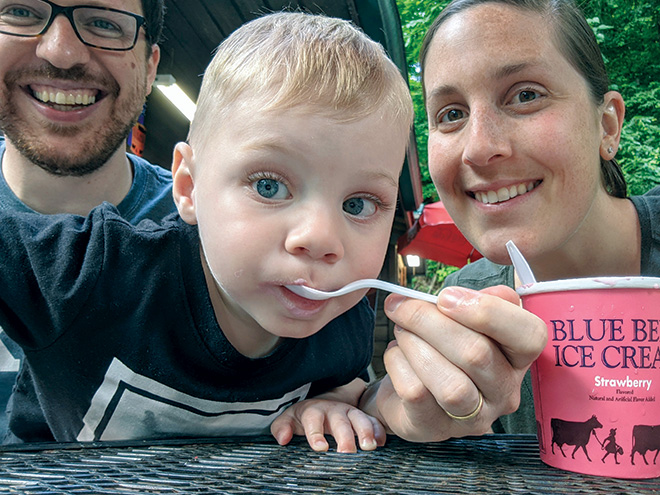 Sharing a pint of ice cream. We all have a big sweet tooth. Hoping Marshall saves some for us!
About Caitlin, by Travis Caitlin is the most caring and loving woman I know. She is the glue that keeps our family together. Her fun filled energy, smile, and laugh can get us through any tough or busy day. Caitlin chose to take time away from her pediatric nursing career to care for Marshall and our future children while they are growing up. She loves spending time with Marshall, reading books, exploring the trails and playgrounds near our house, creating impromptu art projects, making homemade meals, and coordinating playdates with cousins and friends.
Our Little Boy Marshall is a sweet and sensitive toddler, curious and inquisitive, and always asking to read books. He loves to tinker with buttons, switches, buckles, and so much more! Marshall loves to play in his playroom, go on walks around our neighborhood, and take day trips to the zoo, library, playground, and pool. We think Marshall will do very well with a new baby in the house. He gets along well with kids his age, sharing his toys and adult attention without jealousy or outbursts. We have an open adoption with his birth parents, and enjoy sharing letters and pictures several times a year.
A Sweet Home Life We enjoy a quiet, simpler life. We love to make home-cooked meals together and watch Disney movies as a family to connect and unwind at the end of a fun-filled day. We enjoy adventuring outside, often walking around our neighborhood or through the wooded trails nearby. We love taking Marshall out for special afternoon trips on the weekends, and to visit our families.
We have a large deck and grassy backyard with plenty of room for a swing set in the future or anything else our little ones may be into! Our neighborhood street has a number of young families with small children.
While we can often be homebodies, we also love venturing into the city of Cleveland for all it has to offer. We love trying new restaurants and breweries, and spending days at Edgewater Park on Lake Erie. We feel so lucky to have the best of both worlds.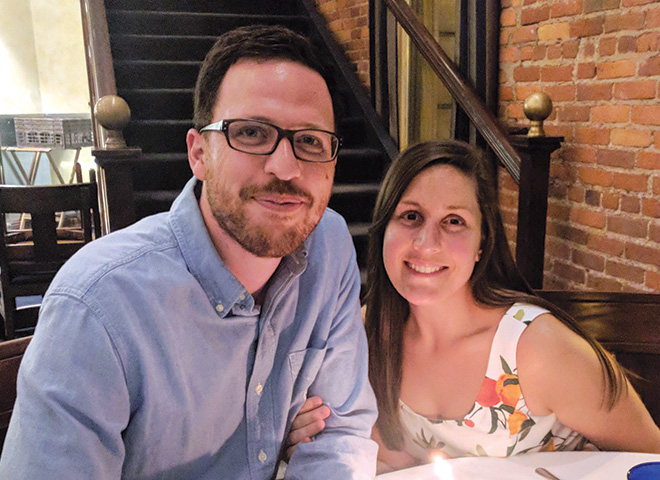 Celebrating our anniversary. We were married Labor Day Weekend.
Our Promise We promise to love your baby unconditionally and welcome them into our hearts, and into our home, with open arms. We promise to provide them a life filled with happiness because they will certainly be the happiest part of ours. We promise they will spend days playing outside with family and neighborhood friends, have family time around the dinner table, and bedtime stories at night. We will celebrate this child's adoption which makes their story special and unique and remind them they are loved far greater by two families instead of one. We hope to make a loving connection with you and promise to raise this child knowing who you are and the sacrifice that was made for them out of love.
Gratefully,
Travis, Caitlin, & Marshall
Our Family At a Glance
We live in Northeast Ohio. We've been married since September 5, 2015. We are both Registered Nurses. Travis is an Assistant Nurse Manager for a Pediatric Cardiac Unit. Caitlin is currently taking time away from her career to be a stay at home mom. We love to cook and find adventurous outdoor activities to do with our son. We believe an open adoption is best for everyone, and would love to discuss a level of openness that everyone would be comfortable with!
For more information about our family, please contact Adoption Link at 1-800-643-3356.