You are here:  Our Waiting Adoptive Families > Meet Kristy & Nick O.
Meet Kristy & Nick O.

We promise to provide unconditional love to any child we are lucky enough to parent. Every child deserves to know where they come from and who they come from, so we also promise to honor your child's story.
Dear Birthparents,
Thank you so much for taking this time to learn a bit about us. We are Kristy and Nick. We met at the beginning of 2020 and have been inseparable ever since. After both being single for a long time, it didn't take long for us to realize we were what we'd both been looking for. We married in August 2020, and in February 2022, we welcomed Evan into our lives. We have been enjoying life as a family of three ever since.
We are happy as long as we get to spend time together as a family. We enjoy grilling out, taking walks around our neighborhood, watching documentaries or comedies (when Evan is not in control of the remote), or playing board games while enjoying our deck. Evan enjoys dancing, coloring, helping in the kitchen, playing whatever game Kristy creates for him, and making mom and dad chase him around while laughing the whole time. We love getting Evan out for little activities — whether it is swim lessons, a farmer's market, or the pumpkin patch — and watching him discover the world. We have an open adoption with Evan's birth family, communicating regularly, sharing pictures and visiting throughout the year.

Enjoying a baseball game
We often say we are each others' biggest cheerleaders as we encourage one another to try new things. We will do the same for our children. We enjoy being active, watching sporting events (especially football) and traveling. We've traveled to Florida, Hawaii, New York and throughout Ohio together. We've taken Evan to see the mountains and the beach.
Kristy works for the federal government and her job provides flexibility for work/life balance. She works from home several days a week with flexibility for childcare. Nick served in the Air Force for 9 years. He left the military to pursue a second career as an attorney and now works at prestigious law firm.
We chose our home and neighborhood with the intent of raising a family. We live in a quiet neighborhood where truly "everybody knows your name." Our community offers all sorts of activities for athletic, artistic and educational experiences. We are frequent visitors at the zoo and recently bought season passes to the scenic railroad because Evan's newest interest is trains. We'll be able to give your child an opportunity to participate in a wide variety of activities so they can find out who they are and what they enjoy.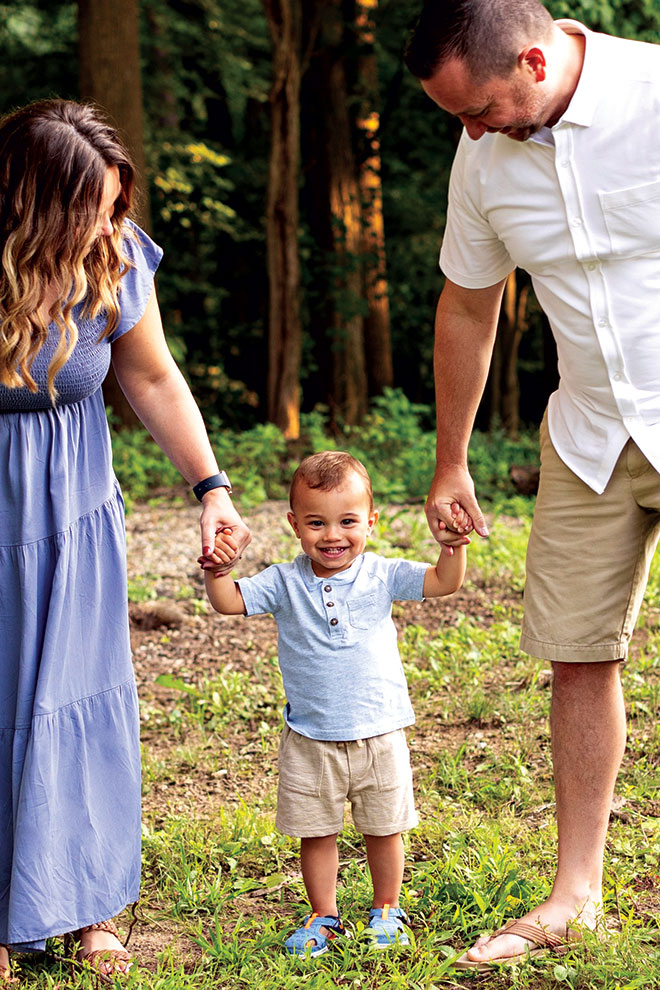 Adoption has already blessed our lives. To be able to build our family through adoption again would be a tremendous gift.
We are very blessed to have supportive friends and family nearby and enjoy getting together for vacations, holidays and cousin playdates. Our parents are excited to welcome and spoil another grandchild, our siblings are excited to welcome another niece or nephew and our friends are imagining setting up playdates with their littles.
Our gratitude that you are considering us is beyond measure. There are no words that can express how much adoption has already blessed our lives. To be able to build our family through adoption again would be a tremendous gift. While so much of life seems uncertain, you can be sure we will give your child the best life possible, loving them and raising them in a home full of laughter and adventure.
Most sincerely,
Kristy & Nick
Our Family At a Glance
We live in the Akron area. We work as an attorney and a contract negotiator. Our hobbies include going to the zoo, family walks, watching sports, hiking, fitness, and turning anything into a competition. We married in 2020. We believe family is the most important thing, whether it is the one you are born with or the one you build.
For more information about our family, please contact Adoption Link at 1-800-643-3356.